Video triptychs
Bazeos Tower 2018
In these playful, meditative triptychs set on Agios Prokopios beach (Naxos, Greece), one is a voyeur and participant in a lyrical interplay of people's individual rituals with the sea. The horizons become a structural element, like an ascending staircase. The water appears to breath. The impression is that of a moving painting.
This work was created in residence at the Bazeos Tower, a former monastery in Naxos, Greece. Five artists, including myself, were invited to live in the tower, respond to its inspirations, and fill it with site-responsive work. We had 21 days from arrival to opening night. The theme–Around & About–was about establishing a creative dialogue with our natural surroundings, the history, and the characteristics of the environment. In my work, I explore the notion of living portraits, invite people listen, and bring into awareness the things that the eye/mind might miss or not perceive completely.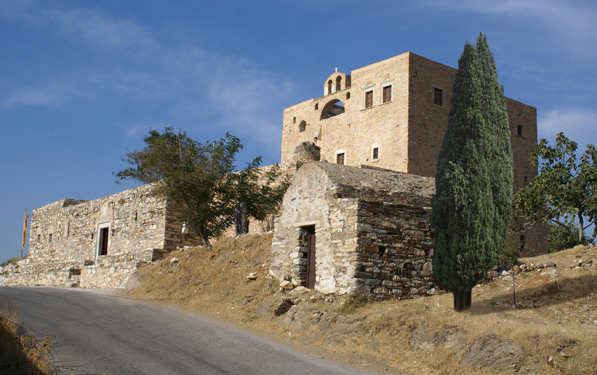 The Bazeos Tower is a creative space and cultural center located in the heart of Naxos, Greece (in the area leading to the coast of Agiassos). The tower dates back to the 17th century and belongs to the most typical group of monuments in Naxos, dating from 13th to the 18th century. Each year, a select number of international artists are invited to participate in an art residency and fill the space with site-responsive works.
Curator: Mario Vazaios Vice curator: Klaus Pfeiffer
Technical curator: Katerina Zourari
Enormous thanks to Collin Mura-Smith for your keen eye and dedication to realizing these videos with me; David Snowdon-Jones for the production ingenious solution and on site architectural help, and; the Bazeos Tower team: Curator, Mario Vazaios; Vice curator, Klaus Pfeiffer; Technical curator, Katerina Zourari. Additional acknowledgments: Video editing: Collin Mura-Smith; Photos: Installation view (top left): ©CostisAntoniadis; Bazeos Tower (top right): ©DieterDU; Bazeos Tower, Opening night (on location): ©DieterDU; Artist portrait (press):©LisaVortman.